FlyGuy calls me out...
-- Posted by Tamer on Friday, August 22 2014
I am really liking this Ice Bucket Challenge to support a great charity. I was planning on donating anyhow, but it looks like I will don the ice water soon thanks to FlyGuy of FlyGuy.net and Boring Conversation Anyway. While we wait for my video, lets watch FlyGuy take the challenge to support the ALS Charity!

---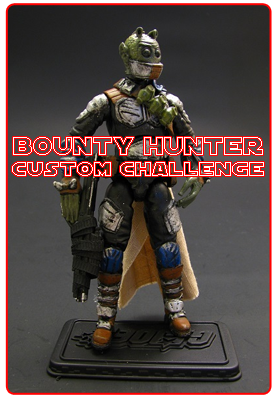 Bronxstalker gets his Bounty Hunter on for our latest custom challenge!
-- Posted by Tamer on Friday, August 22 2014
Wow, now this is one cool Rodian Bounty Hunter. "He is completely painted over. I used Krylon black spray paint as the base color, rather than hand paint him, and found the spray paint to come out incredibly smooth and strong (does not chip, no paint rub, etc). So smooth, you'd think it came this way. I used some sculpt throughout, and even used sculpt above the eyes to give him an angry look, as opposed to the dumb look that Greedo has. I used a mixture of Marine Corps green to give him a darker greenish look, and some yellow, since Rodians could have multi color in their skin. Hope you enjoy, and good luck to all in the drawing." Don't forget to read the full challenge rules and details so you can create your own Bounty Hunter!

---
Mr. Black is turning that six inch Clone Trooper into an ARC!
-- Posted by Tamer on Friday, August 22 2014
I was hoping he was gonna keep delving into this six inch figure. He is really getting ready to create something fantastic. "Yep, already saw a Wolffe on the 6 inch Collector's Facebook page and I have started on an Alpha ARC." I can't wait to see what he does with the bucket!

---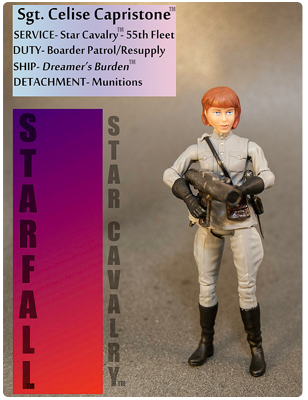 Starfall is back with a new custom...
-- Posted by Tamer on Friday, August 22 2014
"Next is one of the more "background" characters of the Starfall story. Meet Celise Capristone, a junior munitions officer serving aboard The Dreamer's Burden." I must say he is really creating a diverse verse rich with all kinds of characters. I keep wanting to read the book or the photo-novel!

---
KRZTFR is back with a great vehicle update too...
-- Posted by Tamer on Friday, August 22 2014
From a great new ride for his Batman to the awesome modified Walker you see above this is one heck of an update. I have to admit that Walker really turned out well and I had been wondering what its status had been. I think you will be able to recognize some of the parts. It is always something cool you can come up with if you mix SW and JOE parts.

---
KRZTFR makes a better Batman...
-- Posted by Tamer on Friday, August 22 2014
"I always loved the Keaton/Batman movies and the toys were awesome just now outdated so I rummaged my accessory box and gave him some fun gear as a homage to the toys." He has also added way more articulation and some great underwater accessories.

---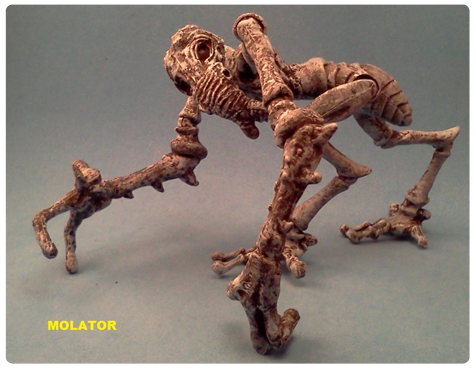 I-am-Boba-Fett is back with a new custom...
-- Posted by Tamer on Friday, August 22 2014
"Made this awhile back but just now am posting the pics. Here is a custom MOLATOR, one of the holochess pieces seen in Star Wars A New Hope, when Chewbacca and C-3PO are playing the game while onboard the Millienium Falcon. This is a fully posable custom figure in scale with all 3 3/4" figures. He is shown in a couple of pics with another custom Cane Adiss figure I was making at that time too." What can I say other than awesome!

---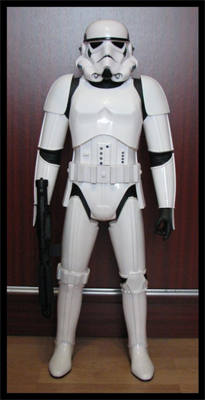 JKNO officially reviews teh Jakks Pacific Storm Trooper...
-- Posted by Tamer on Friday, August 22 2014
He has gotten his hands on a collectible I thought he might pass out, but being an ST Enthusiast he picked this up and did an awesome review. He had a lot of good things to say about this and while not 100% screen accurate (what is these days eh?) he was also able to showcase a few subtle tricks that really pushed the look of this one way up.

---
Sideshow Collectibles announces Life Size Han in Carbonite giveaways...
-- Posted by Tamer on Friday, August 22 2014
Alas, it was not the ole Tamer's name that was drawn from the proverbial hat. Still, you have to credit Sideshow with giving away an over $7,000 dollar collectible and they always seem to have some contest running. Click here to visit their YouTube Channel. Lets just say I bet Rhett Planas is doing a little dance all day long today. Happy Friday too folks!

---

Let Big Bad Toy Store hook up your office or desk!
-- Posted by Tamer on Thursday, August 21 2014
STAR WARS - STORMTROOPER OFFICE HELPERS, DESK TOP ITEMS - BAGS OF 10, RANDOM SINGLES
Two new random blind-packed item assortments are up for pre-order. the Stormtrooper Office Helpers are little 2.35" figures that can hold rubber bands, etc, and the Desk items are various characters that can hold post-it notes, act as a backstand to an iPad, etc. Each is available at $3.99 for a randomly-picked blind-packaged single or at $24.99 for a Box of 10 random items.
http://www.bigbadtoystore.com/bbts/menu.aspx?menu=1147&company=1822

"GUARDIANS OF THE GALAXY" PINS, KEYRINGS
Monogram has announced some new items from the hit movie. Pewter Key Rings come in Rocket Raccoon or Rocket Raccoon Head versions and are priced at $5.99 each, while Pewter Lapel Pins of Rocket Raccoon and Groot are priced at $3.49 each.
http://www.bigbadtoystore.com/bbts/menu.aspx?menu=3436&company=588

LIMITED EDITION JUMBO SIZED SCALERS - BATMAN, SPIDER-MAN
These upsized version of their cord grabbing buddies measure 12" tall and are limited to 3000 pieces each worldwide. They are priced at $74.99 each, $5 off the MSRP.
http://www.bigbadtoystore.com/bbts/search.aspx?search=Jumbo%20Scalers

Don't forget to see all the great new pre-order and in-stock listings in the latest Big Bad Toy Store Newsletter!

---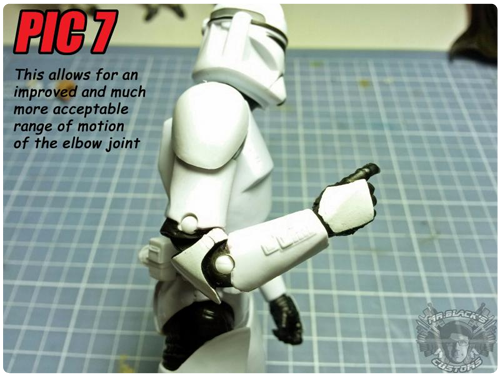 Mr. Black adds more movement to the 6 inch Clone Trooper!
-- Posted by Tamer on Thursday, August 21 2014
He reviewed this figure a few weeks ago and one of his only critiques was the lack of some movement in the head and arm area. Well, he has shown back up with a tutorial on how you can add more range of movement to this Black Series 4 inch Phase I Clone Trooper. It just never ceases to amaze me at how dedicated a lot the Shipyarders are. Thank you Remco for not only fixing yours, but showing the rest of us how to do it ourselves!

---
Most Wanted Collectibles lists great new pre-orders...
-- Posted by Tamer on Wednesday, August 20 2014
I must say seeing some of the DC Statues almost makes me want to collect a new line. Seeing the new DC Comics Bombshells Steampunk Hawkgirl does even more so!

You may also want to check out their entire DC Comics Sections as it is jam packed with hundreds of items. From Batman to Superman to things in between you can sure make your DC Fan very happy. Its never to early to start shopping for Christmas and no doubt that will be here before we know it!

---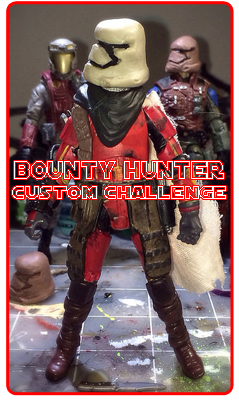 Jetpack Blues gets his bounty hunter on for our latest challenge...
-- Posted by Tamer on Wednesday, August 20 2014
"I wasn't planning on entering this particular contest because even without a contest the awesome customizers on ISY have shown their proficiency at making bounty hunters and I wasn't confident I could match the talent. Then I realized its a random winner so I'm in, haha. Here's some early work on my entry. Got lots of color reworking to do on top of other things. Obviously this bounty hunter is roaming about during the upcoming timeline." I am digging the look of this new helmet (like the new Ep7 Stormies) and hope everyone decides to enter. Like JPB said the winner will be random from all the entrants. Click here to find out more contest details.

---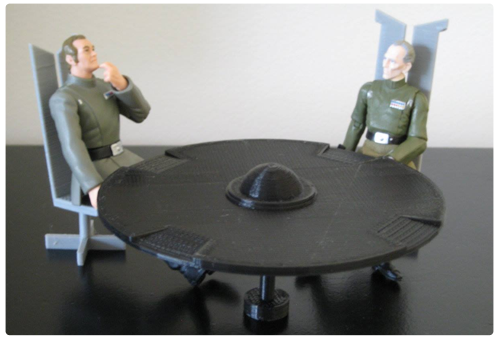 Jrny Fan continues to have success...
-- Posted by Tamer on Wednesday, August 20 2014
In his 3D Printing endeavors. "In case you missed it on FB, I've 3-D printed the conference table and chairs. Still have to apply some labels, though! They're up on the storefront, too. Thanks for all the positive comments on the Death Star! Glad to be done with it, no lie. Will likely take a few weeks off before I get going on the next project: Galactic Senate." Click here to find out more and find the link to his storefront.

---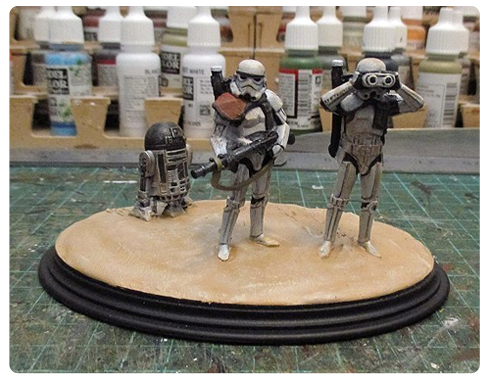 Ron Hembling customizes up some Command Series...
-- Posted by Tamer on Wednesday, August 20 2014
Wow! Perhaps there might be something to this SW Army Men after all! "Here are some quick pics of three of the ST Command Series figures. I figured I would post the quicky pics here so you all can see how they look painted and I will get my usual outdoor pics done by the end of the weekend. These little figures are fantastic to paint up and throw on a dio like the one I have done and as we have mentioned in this section they are fantastic for the beginner painter and dioramist. These would also be a cheaper alternative for wargammers as you could play space and land battles." I like how Ron thinks. And what a great way to get a newcomer into learning how to paint!

---