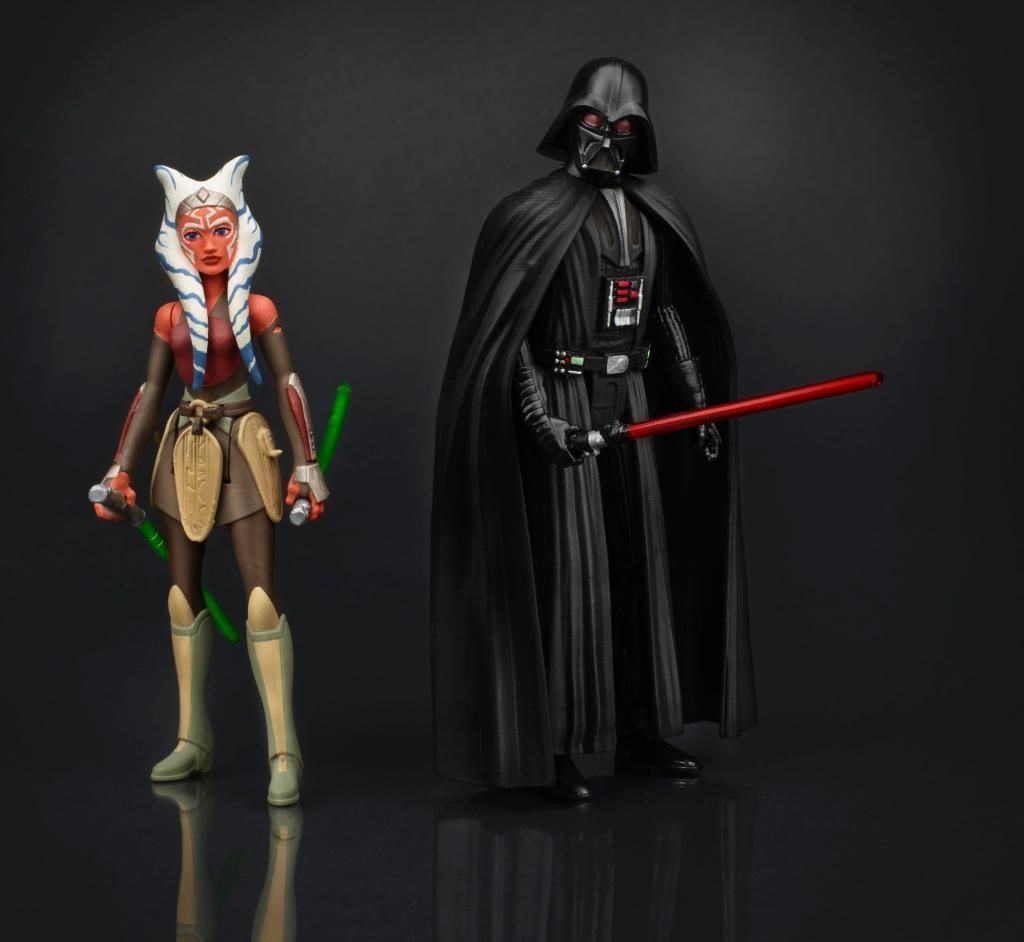 Hasbro sends word about the fate of the Mission Series and Saga Legends...
-- Posted by Tamer on Friday, March 27 2015
Via Hunter PR, "We can confirm that all announced Saga Legends and Mission Series figures for 2015 will reach stores. As for the future of the lines, as you know we're unable to discuss any upcoming and unannounced products for Fall 2015 and beyond at the moment, but you've already seen the Ahsoka/Vader two-pack, which will be available this fall. Stay tuned for more info."

---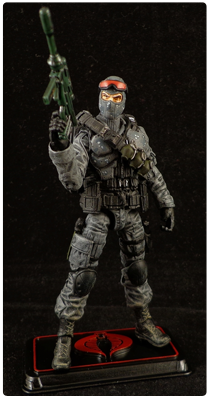 Stronox is back with a JOE Update...
-- Posted by Tamer on Friday, March 27 2015
"Firefly is one of my favorite characters in the joeverse and while I have made numerous versions of him over the years this is by far my current favorite. He was made from numerous figure parts and bits and I made his backpack more functional by adding a removable explosive that is magnetized. Also, the remote is small enough to fit inside his pack as well allowing him to have all his gear stored on the figure." Click here to go add it to your collection.

---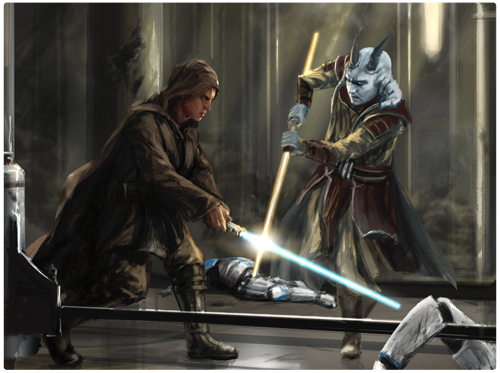 The Irish Rogue is back with a new chapter of The Clone Wars: Knightfall - Raid of the Jedi Temple...
-- Posted by Tamer on Friday, March 27 2015
Definitely some of my favorite fan fiction, IR is back with a continuation of his story about the raid on the Jedi Temple during The Clone Wars. TCW is still alive and well thanks to folks like the Irish Rogue. Click here to go get started.

---
Ben Alius finds one of my favorite SW Vids...
-- Posted by Tamer on Friday, March 27 2015
"What if there was an Empire-focused short Star Wars animation, drawn with the crazy detail and shading of classic 80s anime that's all but vanished from Japan nowadays?"

---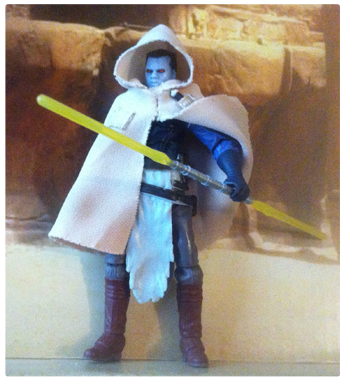 Big Padawan's Customs is back!
-- Posted by Tamer on Friday, March 27 2015
"New custom time. A Chiss Gray Jedi....more to come." I like how this one turned out.

---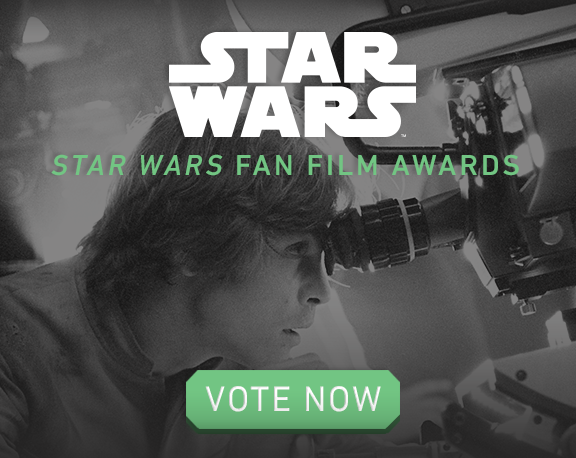 Star Wars Fan Film Awards - Watch and Vote by 3/27!
-- Posted by Tamer on Friday, March 27 2015
"The Star Wars Fan Film Awards. A celebration of fan creativity from a galaxy far, far away are back - and your our only hope for the audience choice award. Visit Starwars.com now to watch these amazing fan-made movies and vote for your favorite."

---

Big Bad Toy Store lists great new Star Wars Items!
-- Posted by Tamer on Thursday, March 26 2015
STAR WARS REVOLTECH BOBA FETT
At last, a Revoltech version of the fan-favorite bounty hunter from "Star Wars," Boba Fett! Equipped with his custom blaster rifle, blaster pistol, and several extra hands, the legendary Mandalorian warrior is 5.90" (15cm) tall and extremely poseable for all kinds of action! He also comes with a clear support arm that plugs into his jetpack for airborne poses. Add him to your lineup today! This item is priced at $54.99.
http://www.bigbadtoystore.com/bbts/product.aspx?product=KAI10616&mode=retail

3D LED WALL DECALS AND DECO LIGHTS
All lights are battery operated and include the 3D Crack sticker to give the appearance that the character has smashed through your wall. Battery Operated & Uses LED Bulbs. Find all your favorites from Star Wars, Frozen, TMNT and more with prices starting at $29.99.
http://www.bigbadtoystore.com/bbts/search.aspx?search=shirtshak&page=1

STAR WARS BLACK 6" HAN SOLO AND BOSSK
Sneak into the control room of the Death Star with the all-new 6" Han Solo in Stormtrooper disguise! He may be a smuggler and a scoundrel, but this fully articulated figure comes with a blaster and a removable helmet so this ruggedly handsome hero can save the day! Hunt down and capture Han Solo and the Millennium Falcon with one of the most feared bounty hunters in the galaxy, Bossk. This 6" figure of the red-eyed reptile is fully articulated and comes with his rifle . We have Han and Bossk in a Set of 2 for $43.99. You can also get Han Solo individually for $22.99.
http://www.bigbadtoystore.com/bbts/search.aspx?search=star%20wars%20black%206%22%20series%2005

STAR WARS 12" TAUNTAUN
"I thought they smelled bad on the outside." From Star Wars Episode V: The Empire Strikes Back, Sideshow Collectibles is proud to present the Tauntaun Deluxe Sixth Scale Figure. Sure-footed and ready to ride across the frozen wastelands, the intricately detailed Tauntaun comes equipped with hand-crafted fabric harness, saddle, and survival gear. Interchangeable expressions bring out the amusing personality of the snow-lizard, and two distinct sets of horns easily identify which Rebel she belongs to. Perched upon a museum-quality sculpted Hoth tundra environmental base, the Tauntaun Deluxe Sixth Scale Figure is an essential addition for recreating your favorite scenes with Luke Skywalker and Han Solo on Hoth and is listed for $349.99!
http://www.bigbadtoystore.com/bbts/product.aspx?product=SSC11263&mode=retail

STAR WARS REVOLTECH R2-D2
Here comes Star Wars Revoltech R2-D2! Everyone's favorite plucky astromech droid is on the way! He's about 3.95" (10cm) tall, and comes with an add-on pull-back action attachment so he can scoot around on any smooth surface! The "eye" light will also change color as you turn his head, and check out those flexible ankles! Add this sassy little droid to your Star Wars or Revoltech collection for $54.99.
http://www.bigbadtoystore.com/bbts/product.aspx?product=KAI10602&mode=retail

STAR WARS HELMET REPLICA COLLECTION
These cool 2.75" helmet replicas come in a box set that will contain 6 out of a possible 7 different helmets that may include Darth Vader, Stormtrooper, Boba Fett, R2-D2, C-3PO, Tie Fighter Pilot, and Secret/Mystery Helmet. This box set is blind, meaning it is randomly packed by the manufacturer so there is not guarantee you will receive a complete set of 6 different helmets. Take a chance and add a box to your cart for $49.99.
http://www.bigbadtoystore.com/bbts/product.aspx?product=BAN16071&mode=retail

---
Hasbro to discontinue Saga Legends?
-- Posted by Tamer on Thursday, March 26 2015
Andrews Toys is reporting just that on their Twitter Feed as you can see above. "This message was received as a solicitation update. Hasbro usually communicates these to clients and not the general public." We will of course send out the Bothans!

UPDATE: Our friends at Jeditemple Archives have found a bit more information that you can access here.

---
Michael Fright is back with a new project!
-- Posted by Tamer on Thursday, March 26 2015
"This December, STAR WARS Episode VII: The Force Awakens hits the theaters. Between now and then, I will have the MILLENNIUM FALCON built to scale to 12inch action figures and ready to take on tour to regional Comic Cons!" Folks you might remember us interviewing Michael on a past episode of Custom Action Figure News. His builds are simply epic. Check out his kickstarter page here!

---
Jedi Minstrel is back with two new custom figures...
-- Posted by Tamer on Thursday, March 26 2015
"Lt. Abrudeghavi'jattenevigda "Ajay" Ghevirethreh was showing great strides in special ops training until an accident during maneuvers cost him his arms. He did not want a discharge and neither did Cmdr. Niev'Kasel. So, Lt. Ghevirethreh underwent an experimental cyborg program. His reflexes were heightened along with his strength level. At first, Ajay resented the arms but now he appreciates having them as he continues to serve the Republic and his friends." I do enjoy reading JM's back stories.

---
Disneyland to get exclusive Astro-Mech!
-- Posted by Tamer on Thursday, March 26 2015
"Fans of Disneyland and Disney World exclusive Star Wars figures look to have another one to add to the list. Vinylmation World has revealed that there will be a new Disneyland 60th Anniversary Star Wars R2-D60 3.75″ Droid Factory Figure. The figure, which looks to be available exclusively at Disneyland, will be limited to just 6,000 pieces. It will be priced at $12.95." Thanks Dan for filling me in on the news from Toyark.com!

---
Most Wanted Collectibles goes The Walking Dead for its weekly update...
-- Posted by Tamer on Wednesday, March 25 2015
"A Gentle Giant Release! Digitally sculpted using the actual prop badge as reference and hand-crafted by master artisans, Gentle Giant is proud to bring you The Walking Dead: Sheriff Rick Grimes Replica Badge! Nowhere else can you find as accurate a replica prop. Presented in a beautiful shadowbox that also boasts an authentic replica of actor Andrew Lincoln's signature, this gorgeous display piece is perfect for any true Walking Dead fan's collection." Click here to see MWC's full Walking Dead selections.

---
MAXX Replicas is back with a custom display stand!
-- Posted by Tamer on Wednesday, March 25 2015
"Here my 1/6 Hot Toys SHADOW TROOPER with a custom made display stand."

---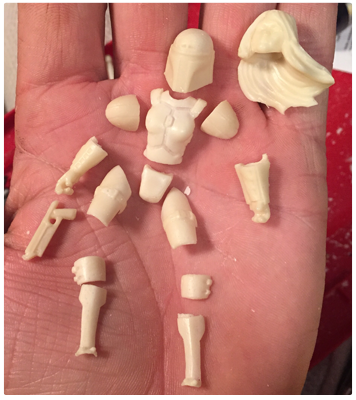 The Clonehead is back with a new part's auction!
-- Posted by Tamer on Wednesday, March 25 2015
"Got another more complete listing of female mando armor parts that ends in a couple of days. It includes a ver. 3 MU black widow head that I don't do very often and a modified cast of the B'arin Apma helm that has no rangefinder mount. I always liked this helm for legacy style stuff as it was larger." You can't go wrong with CH's parts!

---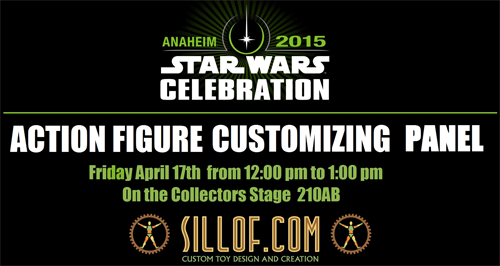 Sillof sends word on a customizing panel to be held at Celebration Anaheim!
-- Posted by Tamer on Wednesday, March 25 2015
"There are going to be 2 great customizing related events C7. For our 2nd straight celebration I will be hosting the panel on action figure customizing. The panel is on the collectors stage 210AB on Friday from 12-1. The panel will feature the work of many customizers, as well as tips, tricks, resources, line debuts, figure giveaways, and the coveted limited edition collector's track pins. The other event is something new I am trying this year. As usual I will be helping out at the Diorama Workshop (this years theme is Cloud City) We are located in Hall B directly next to the Hasbro who is officially sponsoring us. Two times a day each day I will be offering classes to help people learn how to do the hobby. Attendees will sign up at the show and have to bring 2 figures - one to modify and one to donate." Sounds like a great time to me!

---