Vipers Kingdom has some great deals on SW Items...
-- Posted by Tamer on Sunday, November 22 2015
One of probably the best known of the eBay Asian Power Sellers, Vipers Kingdom has developed a reputation for moving vast amounts of action figures at greatly reduced prices. His feedback pretty is pretty fair for moving that volume too. He is always one of my go to sellers when I think about getting deals and getting lots of something. Click here to check out his latest Star Wars Deals.

---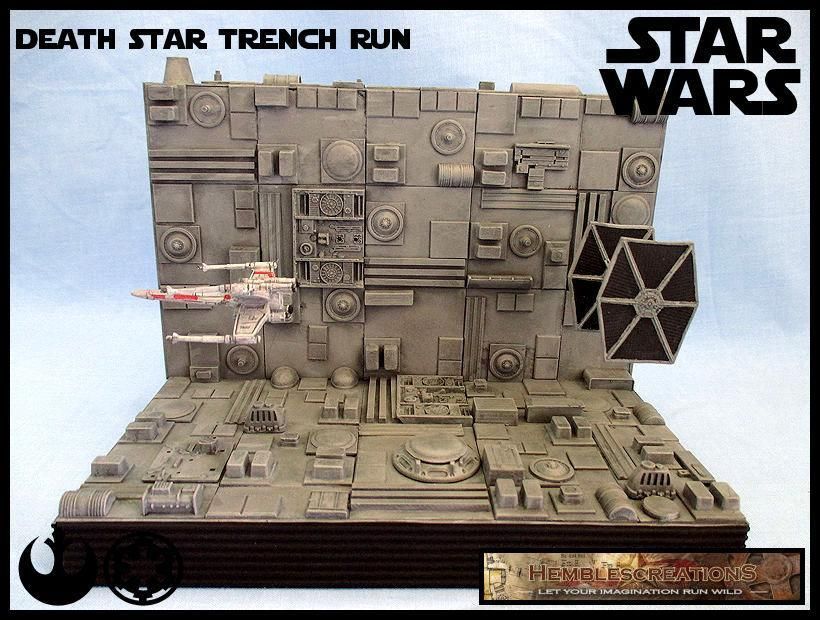 Ron Hembling back with Micro Machines Death Star Trench Run!
-- Posted by Tamer on Sunday, November 22 2015
"The DS Trench was made using marine foam as the base then adding foam core and then I added plasti card. The greeblies are pieces of different styles of plasti card, 1/35th, 1/72nd and 28mm figures parts.

The ships are micro machines which have been painted and weathered using Vallejo paints and the DS was painted Vallejo and Game Worksop paints."

I am absolutely loving these small dioramas he is putting together. It is hard to see how he is putting this much detail into them being so small, but they look fantastic!

---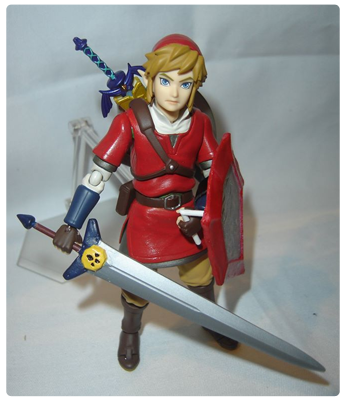 Mandalore25 finishes his Link!
-- Posted by Tamer on Sunday, November 22 2015
"Made the hard call of calling Link finished, wanted to do more, but expenses, and time put in were getting pretty high already. The higher the price I need to ask, the less likely he'll will sell. Thinking I might do a second with different accessories instead, maybe three. Love the way the accessories I did turned out though, they look right out of the game.

If anyone is interested he's listed here."

There was a just a ton of stuff that went into this custom action figures creation. Make sure you scroll up to see all the great work he did.

---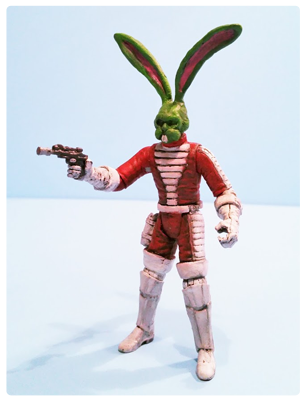 Darth Daddy shares a better look at his Jaxxon...
-- Posted by Tamer on Sunday, November 22 2015
"This is a character I always thought about making, but kept putting off to do later so I could create a character that I had wanted to make more. I actually planned on making him in a completely different way than what I did here. This version was just the result of making what the commission required. This figure was born from the need to make a Jaxxon for High Adventure's "High Five" album cover that recreated the look of the cover of the Marvel edition of Star Wars #8: Eight for Aduba-3."

---
Rezikai tries his hand at fan fiction...
-- Posted by Tamer on Saturday, November 21 2015
"I started this fanfic about 9 months ago when I thought I was going to do it as a Photonovel, the mods may remember a deleted post by me back in May with pics of a stormie figure near a rough dio of pillars covered in vines. I decided to take a more in depth perspective on the story and wrote about 80 pages. I may turn it into a photonovel eventually... but wanted to test the waters first."

Well I sure did like the start of this I must admit!

---



Jedi Minstrel is back with a Jedi Custom...
-- Posted by Tamer on Saturday, November 21 2015
"So, again just finally getting to post some customs I did a while ago. Here's one that after I put him together, I reminded me of Tommy Lee Jones in MIB. Got a couple of ideas for if I do a Will Smith but that'll be done the road.

Kae Vis was a Jedi from about 3475 years before the Battle of Yavin. He was a strict but fair Master that had helped trained many padawans achieve Knighthood. It was in a battle against a Sith Lord that blinded him years ago. Vis was defeated by the Sith Lord and it was only by the aide of his then Padawan, Wyl Sm'th, he even survived. They escaped but not before leaving the Sith Lord stranded. Later, he chose not to have implants. He felt artificial eyes were a hindrance to the Force. His other senses were more than enough."

It is great to see him back with a Jedi after his namesake after all. He also has the most excellent back story. He really thinks his characters out well.

---
Brandon Flores shows new pic of his FO Shuttle...
-- Posted by Tamer on Saturday, November 21 2015
As you can see he is in the home stretches of his First Order Shuttle Project done in 6" Scale. He sure doesn't have to wait to see if Hasbro will release any more 6" ships, he just builds his own! Click here to see what he shares today and give us a like if you like what you see!

---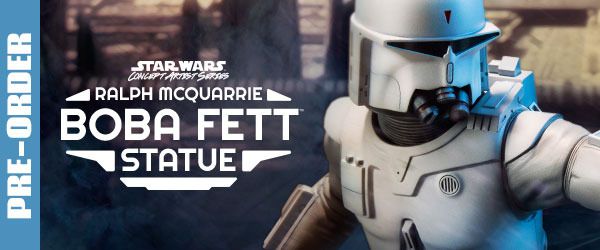 Ralph McQuarrie Boba Fett Statue up for pre-order!
-- Posted by Tamer on Friday, November 20 2015
"Ralph McQuarrie's conceptual drawings and paintings were instrumental in bringing George Lucas' epic space saga to the big screen, envisioning the vast worlds of fantastic heroes, villains, vehicles and aliens that would come to be known as Star Wars!

Inspired by Ralph McQuarrie's pre-production artwork for Star Wars: The Empire Strikes Back, Sideshow Collectibles is proud to present Boba Fett!

One of the first new characters to be designed for The Empire Strikes Back, Boba Fett originally began as a super trooper, with a striking aesthetic inspired primarily by Darth Vader and the Stormtroopers. As McQuarrie worked closely alongside Star Wars Art Director Joe Johnston, the character evolved into the ruthless Mandalorian bounty hunter we know today. Capturing the spirit of these early explorations, Fett appears in his original all-white armor with two unique helmet designs, leaping into action over a base inspired by the Slave I. Reviewing a broad spectrum of McQuarrie's imaginative designs for Boba Fett, Sideshow's artists have translated his iconic artwork in a brilliant homage to a Star Wars that is both familiar, yet never was."

Click here to create a wonderful gift for that Star Wars Fan in your life. I would probably about half faint if my wife were to surprise me with this!

---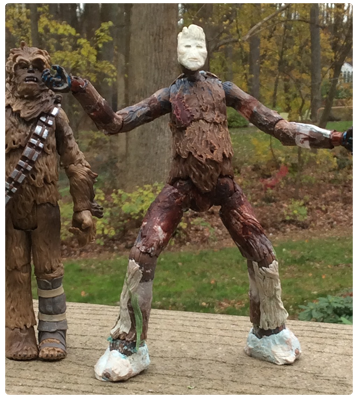 Sjefke starts a 3.75" Super-Articulated Groot Project...
-- Posted by Tamer on Friday, November 20 2015
"Did anyone else feel jipped when Hasbro released the GotG Marvel Universe "FOUR" pack? It was basically, SA Starlord and Drax with a one piece Rocket Raccoon and a totally unsatisfying potted Groot. I never read a comic, but I really loved the GotG movie. Yes, Hasbro released some great Marvel Legends figures, but I like my SA 3.75, so I'm stepping outside the Star Wars comfort zone and starting with Groot. We'll see how far I get with the other movie Guardians. Anyway, here are some Groot WIPs."

---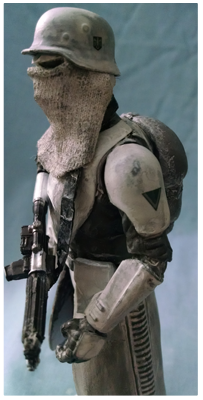 JDeck calls his Stalingrad Trooper done...
-- Posted by Tamer on Friday, November 20 2015
"Alright I'm going to call him finished before I mess him up. I just needed to add some minor weathering and decals. The decals designate him as an infantry corporal. The decals are actually 1/16, but that's okay because I don't want them to overpower the figure, seeing the next step up is 1/6. I really like it, one of my favorite mash ups, I'd say my favorite custom figure to date. I already have someone lined up who wants to buy it, so I'll have to part ways and build something better."

It doesn't surprise me that someone wanted it I am just sore they beat me out of it! What a wonderful custom and such a neat mash up between WW2 styling as it meets our SW Verse. Nice job JDeck!

---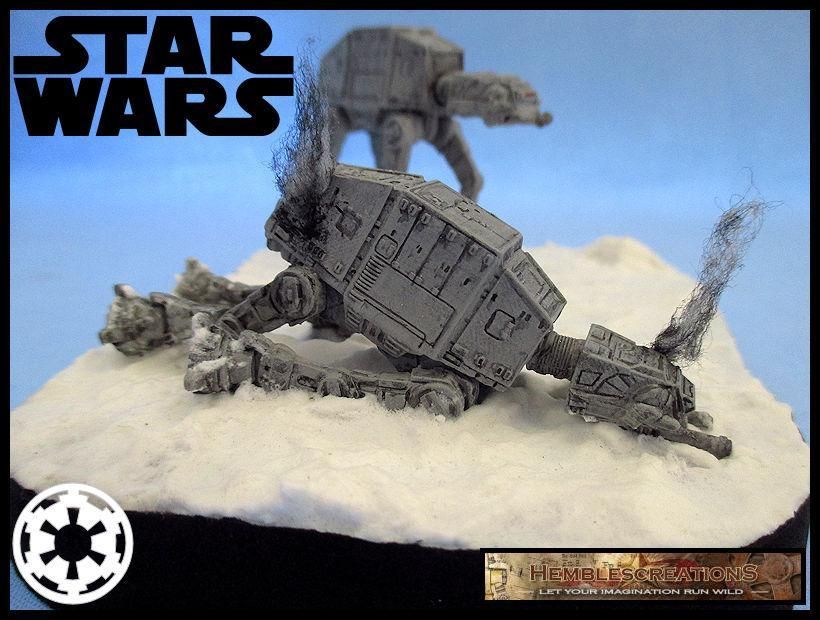 Ron Hembling shares his AT-AT Hoth Micro-Machines Diorama...
-- Posted by Tamer on Friday, November 20 2015
"Here is the third micro machine dio.

The AT-AT's are micro machines and I re-positioned the legs on the downed one and altered the front left leg slightly on the walking one, I also sanded them to get rid of the seam line the best I could and then they were painted using Vallejo paints.

The base is marine foam which was cut to size and the snow is spakfilla mixed with PVA glue and a little water."

Needless to say I have been extremely impressed with this one. The quality, detail, and special effects just seem unparalleled to me in something this small of a size. I don't know why I am surprised as its Ron Hembling after all!

---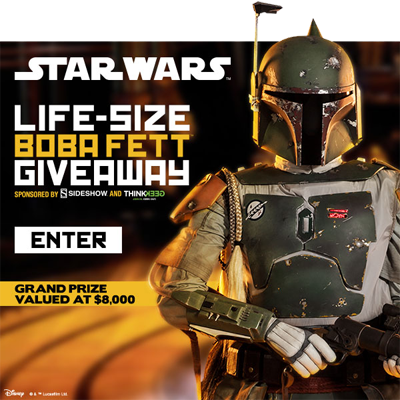 SSC announces Life Size Boba Fett Statue Giveaway!
-- Posted by Tamer on Friday, November 20 2015
"Enter for your chance to win!

ThinkGeek and Sideshow have joined forces to give Star Wars™ fans a chance to win out-of-this-world prizes! Enter today and you might win Sideshow's Boba Fett™ Life-Size Figure or ThinkGeek's Rebel Scum or Empire runner-up prize packs!"

---
Omaze and Star Wars: Force For Change are uniting again!
-- Posted by Tamer on Friday, November 20 2015
"Harrison Ford announces your chance to win a trip for four to the red carpet premiere of Star Wars: The Force Awakens! Every contribution benefits multiple causes nominated by members of the cast.

ENTER HERE: http://bit.ly/STARWARS--PREMIERE

Campaign Page URL: omaze.com/star-wars"

What a great way to win a red carpet trip to see the new movie!

---
Rareburg.com sends the latest word about their Stormtrooper Armor Giveaway...
-- Posted by Tamer on Friday, November 20 2015
"The final armour is being drawn on 27th Nov next week, and people can still register their free entry for the draw up until 23:59:59 end of 25th Nov (GMT)!

We're also exhibiting the armour this weekend 21/22 Nov at MCM ComicCon Birmingham at stand BC4.

PS If you guys are going to MCM, pop over and say hi!"

Hopefully our UK Yarders will do just that. Click here to go see how to register to win this armor set!

---

Disneystore.com having Pre-Black Friday Sale...
-- Posted by Tamer on Friday, November 20 2015
I am gonna wonder if the term Black Friday might become a thing of the past as more and more retailers start their sales early. Disneystore.com is back with some good deals on a few Star Wars Items.

---