Have you seen the great Star Wars Deals at Beyond Mortality Toys?
-- Posted by Tamer on Tuesday, July 22 2014
I had a friend message me this past week saying there was a new etailer I needed to check out called Beyond Mortality Toys. Well no sooner did I look than I saw some just fantastic prices on Star Wars Toys. How does a new pre-order for 3 and 3/4 inch Star Wars at $8.92 feel to you? How bout Black Series 6 inch pre-orders at &$16.99 including the good ones? Well all I have to say is I put in my own order fairly quickly!

---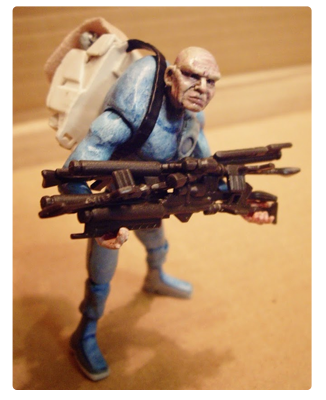 Darth Daddy is back with an update...
-- Posted by Tamer on Tuesday, July 22 2014
He is keeping The Clone Wars alive with yet another new custom for that particular genre. 99 was definitely one of my favorite TCW Characters and hands down would have made a great figure addition to the line by Hasbro. Click on through to see the update.

---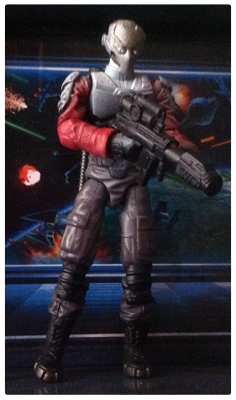 BDC41866 gives Big Padawan's Customs an update...
-- Posted by Tamer on Tuesday, July 22 2014
"Another nice sized update today, Denizens of the Yards! Had a lot of fun with these. Again much inspiration from various sources. First up is a cyborg bounty hunter, then we have an Order 66 Jedi survivor, an Old Republic Jedi explorer, and finally a Kel Dor sniper. Enjoy!" Well I sure did.

---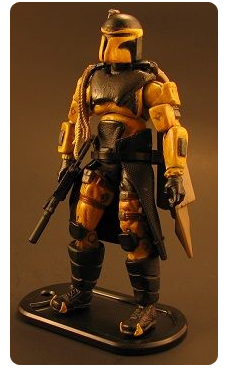 We welcome Bronxstalker to ISY...
-- Posted by Tamer on Tuesday, July 22 2014
"Hi all, I've been a long time lurker and have decided to bite the bullet and join and start posting. I only have about a year under my belt customizing, and my earlier stuff isn't even worth showing. Now, I have a couple that might be of interest to show. I still don't have a lot to post at the moment, and I'm hesitant to post them, but what the heck, might as well." Well I for one am glad you did as I really enjoyed his Star Wars as well as JOE Customs.

---
Hasbro to partner with Shapeways to allow 3D Printing!
-- Posted by Tamer on Tuesday, July 22 2014
I have to thank CHEWIE, one of our great friends at Yakface.com, for cluing me into this! While right now it seems this is just going to apply to My Little Pony it does open the door perhaps down the road for certain select 3D Artists to perhaps get into some Star Wars Items I hope! Click here to read the full article and thanks Justin for the link. Talk about a new hope!

---
The SSC Legendary Scale Obi-Wan is up for pre-order!
-- Posted by Tamer on Tuesday, July 22 2014
You have to admit it is one awesome looking work of art. "Joining our acclaimed Star Wars collection, Sideshow Collectibles is proud to present the Obi-Wan Kenobi Legendary Scale™ Figure. Standing over three feet tall, this cinematic presentation captures Sir Alec Guinness' unforgettable performance as the heroic Jedi master in Star Wars Episode IV: A New Hope." It has to be one of the most accurate representations of this character I have ever seen.

---
SW.com gives us an Extended REBELS Trailer!
-- Posted by Tamer on Tuesday, July 22 2014
I will have you know its getting pretty hard to wait for this to premier. "The Jedi have been wiped out and the Empire spreads tyranny through the galaxy. Hope runs thin. But on the small planet of Lothal a big change is looming. A group of rebels meet a 14-year-old con artist named Ezra and soon it's clear their destinies are linked. Aboard their ship, the Ghost, Ezra and the rebels embark on an adventure to ignite a rebellion and strike back against the Empire." Be sure to subsribe to SW.com's YouTube Channel so you get all the great updates!

---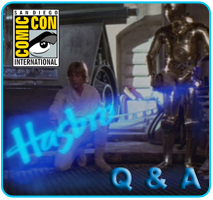 Time is running out to get your questions in for Hasbro!
-- Posted by Tamer on Monday, July 21 2014
I am happy to report we are gonna get some questions in to the Hasbro Brand Team for San Diego Comic Con! Our Hasbro contacts are saying they will definitely make something happen! So what are your burning questions for the Big H? Post them here or on our Facebook Page and I will make sure to get them to our representative.

Folks please check into the forum's thread to check on the guidelines so we can maximize our output in the short amount of time we will be able to talk with them. We know some topics just won't be touched. I don't like it any better than you do, but we want to get some real answers!

UPDATE!: I have created a separate page for those of you who like to use discus comments. I too think it is pretty rad and it was finally time I figured it out!

---
JJ is asking that all Wings report in for Star Wars: Force for Change!
-- Posted by Tamer on Monday, July 21 2014
"All Wings Report In! On the set of Star Wars: Episode VII, Director J.J. Abrams was interrupted by an X-Wing pilot and rogue robot as he announced the chance for fans to win an advance private screening of Star Wars: Episode VII. "We are so grateful for the support that the fans from over 119 countries have shown for Force for Change," said Abrams. "As we close this final week, we've added an additional prize that allows the fans the opportunity to see the movie early as a thank you for supporting such a great cause as UNICEF's innovative, lifesaving work for children." By contributing at any level by July 25th, participants will be eligible for all prizes including a chance to be in the movie." I have to admit seeing that new ship that is a cross between an X-Wing and a Z-95 Headhunter, Pilot, and Mouse Droid sure was pretty cool!

---
Koth is back with a mega-update...
-- Posted by Tamer on Monday, July 21 2014
"Here's the one I've been a bit brown pants over. My dremeling skills were put to practice and it would have been an expensive fluff if I messed it up." Well I don't care if he is need new underwear excited, this is good stuff!

---
Darth Leere starts up a custom figures thread...
-- Posted by Tamer on Monday, July 21 2014
It was nice to first meet this customizer by the great EU Ben Skywalker entry in our latest challenge, but now DL is back with a great many new custom action figures for us to peruse. "This next custom is an old republic Mandalorian Jedi hunter. His name is Roth Sunburst. His parents were killed by a dark Jedi when he was a child. He was found by a Mandalorian and was raised to be such." You will enjoy the rest of the back-story.

---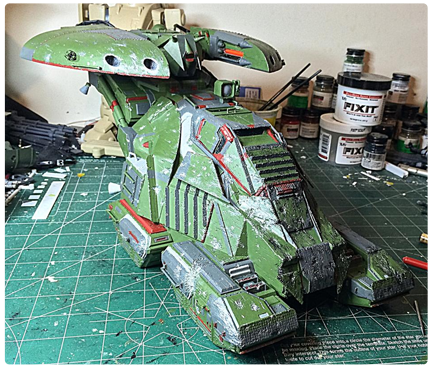 C130IM is back!
-- Posted by Tamer on Monday, July 21 2014
"1:18 Invader class; Main Anti-Grav Assault Tank M-2, (MAGAT M-2), "Hammerhead". The MAGAT M2 is upgraded variant of the MAGAT V1. This model is 90% complete. Need to touch up weathering and details. Also, making the driver/gunner figures for MAGAT M2." It was great to see an update. Welcome back Chad!

---
Custom Jedi revisits some old custom figures...
-- Posted by Tamer on Monday, July 21 2014
"I'm continuing to pull out old customs and deciding which ones will be revisited. Here's CZ-3 from 2007. I repainted his face after stripping off most of the original Hasbro paint apps. He could use some additional weathering but he still holds up." I agree he holds up quite well!

---
Wraithnine is back with a new Sideshow Custom...
-- Posted by Tamer on Monday, July 21 2014
Meet "Umbara ARC Trooper Fives Phase 2. I must say this one will take your breath away is is so detailed. Jay has taken his love of Clone Troopers to an entirely new level with these SSC Customs. I highly recommend looking around once you are in his customs thread as you will see a lot of great things.

---
Stronox is back with two new Star Wars Customs...
-- Posted by Tamer on Monday, July 21 2014
"Hi guys!! Been a while since I have posted anything Star Wars...Been getting into a lot of other projects lately...Anyways, I made up a Revan and Malak using all Joe parts and nothing from the actual Revan or Malak figures...These are more of a my style concept (especially Malak) since I honestly have never been a big fan of either of these guys. Thanks for taking a look!" For not being a big fan he certainly did a fantastic job on these two. If these really strike your fancy you can even go to his eBay Page and add them to your custom collection!

---